Home on the Grange Music Series - Lopez Island, WA
Next Up!
Film Screening & Q&A - Who Bombed Judi Bari? - Fri. March 8th 2013- 7:30 PM ~ Port Stanley Schoolhouse - Lopez Island, WA

Tix: Suggested Donation $10 (sliding scale). Door Sales only. More Info:
Here
Sponsored by Home on the Grange & Lopez Knowledge Share: Honoring Judi Bari on International Women's Day

Who Bombed Judi Bari? Hits Lopez Island as Producer/Victim Hunts for Bomber - Documentary of Unsolved Mystery Chronicles FBI's Arrest of Redwood Activists and Car Bomb Victims; and a Victorious 1st Amendment Lawsuit.

The 93-minute, award-winning documentary will screen at Port Stanley Schoolhouse on International Women's Day, March 8th at 7:30 PM. The film will be followed by a Q&A with producer/victim Darryl Cherney. The movie has been well received by the critics as well as garnering numerous awards at major film festivals: http://www.rottentomatoes.com/m/who_bombed_judi_bar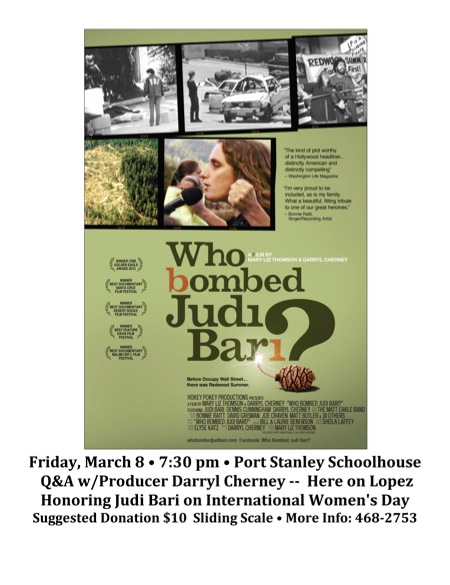 Please note: "Home on the Grange" is not associated nor endorsed by the Lopez Island Grange nor it's members, nor does "Home on the Grange" claim to represent them. "Home On The Grange" is an independent entity, that has produced events at the grange and other island venues. The name simply stuck and we liked it!

Press/News from Home on the Grange
April 2012
-
The Sounds of Joie de vivre' come to Lopez's Woodmen Hall
March 2010
-
Fourth Year of Home on the Grange
Jan 2009 News
- RadioFreeLopez has now become Home On The Grange officially! They are one and the same thing. If you look for RadioFreeLopez.com you will now be redirected to HomeOnTheGrange.com. More Info about this change here
:
About Us
Feb 2009 Article in Islands Weekly -
Music from the Homelands of America
Dang! We made the paper....
.Check it out!
"Nothing puts me at home, musically, quite like playing in an old hall hammered together from planks of stories and history, for a roomful of lovable island kooks. You're either family by the end. Or no one will ever hear from you again. That kind of urgency can really breath life back into an old song."


~~Danny Schmidt (musician, kook, and inaugural inductee of the Home on the Grange series)


I've always loved the kind of show where friends gather in a woody old place, and the laughter of greetings stills to a reverent hush as the music begins, and then some sort of lovely spell gets cast as the magic of melodies and stories rolls back and forth from performer to audience to performer in an invisible upwards spiral... That's what it felt like to play in that Grange Hall with Lopez Islanders for an audience. Being a part of the Home on the Grange concert series was, and is, a gift...


~~Esther Golton (musician, and all-around awesome gal)


If you are a musician looking for booking please:
Contact Us